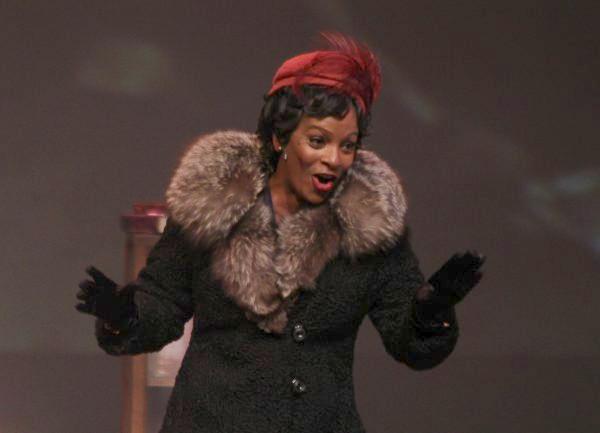 Review: Vanessa Bell Calloway Convincingly Channels Zora Neale Hurston in One Woman Play

*The WACO Theater in North Hollywood, California, where Tina Knowles Lawson and Richard Lawson serve as Co-Artistic Directors, is the current location for Vanessa Bell Calloway's one-woman play, "Letters from Zora," a play about the life of author Zora Neale Hurston, as told through letters she wrote.  Thanks to Mrs. Calloway's publicist, Lynn Jeter, I was fortunate enough to attend a performance on May 12, along with a few celebrities I spotted in the audience.
The play was nearly 30 minutes late getting started; however, the next 90 minutes proved the late start was worth the wait.  I had heard of Zora Neale Hurston.  Who has not heard of one of the most successful female African American writers of all time and an inspiration for the likes of Alice Walker, Maya Angelou and Toni Morrison?  Hearing of Ms. Hurston and meeting her are two different things.  At the end of the evening, I felt as though I had spent precious time with Zora Neale Hurston herself.
The play began with Mrs. Calloway aka Ms. Hurston, walking into the room and removing her coat, hat and scarf.  It ended with her putting them back on and leaving the room.  What happened in between was a captivating and spellbinding performance.  While watching Ms. Hurston's story unfold, I was waiting for the next piece of the story.
There were no intermissions during the performance and no mistakes, but why should there have been any mistakes when Zora herself was telling her story.  The delivery was simultaneously entertaining, engaging and informative.  We were regaled with stories of Ms. Hurston's childhood experiences growing up in the African American town of Eatonville, Florida where there was no racism and her mother telling her and her siblings to "jump at de sun," as well as her college experiences, including the fact that she went to several colleges.  We were made privy to her days in Harlem and becoming part of the Harlem Renaissance, her association with Langston Hughes, her multiple marriages, two of them lasting less than a year as well as the fact that Zora Neale Hurston went to high school at age 26, pretending to be a 16 year old.  We learned of many of the trials and tribulations that Ms. Hurston faced, including her financial challenges and not being paid what she should have been, commenting she got a little and others got a lot.  Yes, we were both informed and entertained.
After the performance, Mrs. Calloway and Director/Artistic Producer Anita Dashiell-Sparks spoke of the possibility of taking the show to New York for six weeks and encouraged anyone wanting to contribute financially, to do so because that is the only way future performances, including those in New York, can occur.
Vanessa Bell Calloway stepped away from being Vanessa Bell Calloway and became Zora Neale Hurston.  Performances are occurring through May 20 as the WACO Theater Center in North Hollywood, CA, so go and experience the transformation for yourself.

Warning: file_get_contents(): php_network_getaddresses: getaddrinfo failed: Name or service not known in /home/inthecom/public_html/wp-content/themes/novelti/functions.php on line 1344

Warning: file_get_contents(http://urls.api.twitter.com/1/urls/count.json?url=https://inthecompanyoffriends.tv/vanessa-bell-calloway-convincingly-channels-zora-neale-hurston-in-one-woman-play/): failed to open stream: php_network_getaddresses: getaddrinfo failed: Name or service not known in /home/inthecom/public_html/wp-content/themes/novelti/functions.php on line 1344

Vanessa & Friends